Chapter Thirteen - Thunder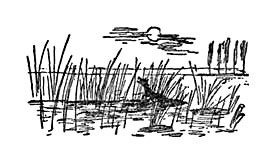 TWO DAYS before the opening of the hunting season, Lightning died. He was as old as the hills and had every reason to be sick and tired of playing the part of a hunting dog when he wasn't born one. Don Camillo could do nothing but dig a deep hole beside the acacia tree, toss in the body and heave a long sigh. For a whole fortnight he was depressed, but finally he got over it, and one morning he found himself out in the fields with a shotgun in his hands. A quail rose out of a nearby meadow, and Don Camillo shot at him, but the quail flew on as calmly as before. Don Camillo nearly yelled, "You wretched dog!" but he remem¬bered that Lightning wasn't there, and felt depressed all over again. He wandered about the fields, over the river bank and under grape arbors, discharged as many volleys as a machine-gun, but never made a single hit. Who could be lucky without a dog beside him?
With one cartridge he had left, he aimed at a quail fly¬ing low over a hedge. He couldn't have missed, but there was no way to be sure. The quail might have fallen either into the hedge or into the field on the other side. But to search for it would be like looking for a needle in a haystack. Better give the whole thing up. He blew into the barrels of his gun and was looking round to see where he was and which was the shortest way to go home when a rustle made him turn his head. Out of the hedge jumped a dog, holding a hare in his mouth, which he proceeded to drop at Don Camillo's feet.
"Heaven help us!" Don Camillo exclaimed. "I shoot a quail, and this dog brings me a hare!"

He picked the hare up and found that it was soaking wet, and so was the dog. Obviously he had swum across from the opposite side of the river. Don Camillo slipped the hare into his bag and started home, with the dog following. When he reached the presbytery, the dog crouched outside the door. Don Camillo had never seen a dog like him. He was a fine animal and seemed to be in the pink of condition. Perhaps he was a dog with a pedigree like that of a count or a marquis, but he had no identification papers on him. He wore a hand¬some collar, but there was no plate or tag attached to it.
"If he doesn't come from another world but has a rightful owner in this one, surely someone will turn up to look for him," Don Camillo thought to himself. And he let the dog in. That evening before going to bed, he thought about the dog and finally put his conscience at rest by saying to himself: "I'll mention him in church on Sunday." The next morning, when he got up to say Mass, he forgot all about the dog until he found him at the church door.
"Stay there and wait for me," Don Camillo shouted.

And the dog curled up in front of the sacristy door, where after Mass he gave the priest an enthusiastic greeting. They breakfasted together, and when the dog saw Don Camillo take his shotgun out of the corner where he had left it and hang it on a nail, he barked, ran to the door, returned to see if Don Camillo were following and, in short, would give him no peace until Don Camillo slung the gun over his shoulder and made for the fields. He was an extraordinary dog, one of the kind that puts a hunter on his mettle and makes him think: "If I miss my aim, I'm a dirty dog." Don Camillo concentrated as if he were under examination and showed himself to be a worthy master. On his way home with a bag full of game, he said to himself: "I'll call him Thunder." Now that the dog had done his work, he was amusing himself by chasing butterflies in a meadow.
"Thunder!" Don Camillo shouted.
It seemed as if from the far side of the meadow someone had launched a torpedo. The dog streaked along with his belly close to the ground, leaving the long grass parted in his wake. He arrived in front of Don Camillo with six inches of tongue hanging out, ready for orders.
"Good dog!" said Don Camillo, and Thunder danced and barked with such joy that Don Camillo thought: "If he doesn't leave off, I'll find myself dancing and barking."

Two days went by, and Satan tagged at Don Camillo's heels, whispering to him that he should forget to say anything about the dog in church on Sunday. On the afternoon of the third day, when Don Camillo was on his way home with a bag of game and Thunder frisking ahead of him, he ran into Peppone. Peppone was in a gloomy mood; he had been hunt¬ing, too, but his bag was empty. Now he looked at Thunder, took a newspaper out of his pocket and opened it.
"That's funny," he said. "He looks just like the dog they've advertised as lost."
Don Camillo took the paper from him and found what he had hoped he would not find. Someone from the city was offering a reward to anyone who found a hunting dog with such and such marks upon him, lost three days before along the river.
"Very well, then," said Don Camillo. "I needn't make any announcement in church. Let me keep this paper. I'll give it back to you later."
"It's really too bad," said Peppone. "Everyone says he's an extraordinary dog. And they must be right, because when you had Lightning you never brought home a haul like that one. If I were in your shoes . . ."
"And if I were in yours . . ." Don Camillo interrupted. "But I happen to be in my own, and as an honest man I must restore the dog to his rightful owner."

When they reached the village Don Camillo sent a tele¬gram to the man in the city. Satan had been working out a new argument to use on Don Camillo, but he was too slow, because he had counted on Don Camillo's sending a letter rather than a telegram. That would have taken fifteen or twenty minutes, time enough for anyone so persuasive as Satan to win a point reluctantly defended. But a five-word telegram was so quickly dispatched that Satan was left at a standstill. Don Camillo went home with his conscience in good order, but with a feeling of deep depression. And he sighed even more deeply than when he had buried Lightning.
The city man drove up the next day in a low-slung sports model. He was vain and unpleasant, as might have been expected from his flashy taste in cars; what is called a city slicker.

"Where is my dog?" he asked.
"A dog has been found that must belong to somebody," said Don Camillo. "But you'll have to prove your owner¬ship."
The man described the dog from stem to stern.
"Is that enough?" he asked. "Or do I have to describe his insides as well?"
"That's enough," said Don Camillo glumly, opening the cellar door.
The dog lay on the floor without moving.
"Thunder!" called the city slicker.
"Is that really his name?" asked Don Camillo.
"Yes."
"That's funny."
Still the dog did not move and the man called again:
"Thunder!"
The dog growled and there was an ugly look in his eyes.
"He doesn't seem to be yours," observed Don Camillo.

The claimant went and took the dog by the collar in order to drag him up from the cellar. Then he turned the collar inside out, revealing a brass plate with a name on it.
"Just read this, Father. Here are my name and address and telephone number. Appearances to the contrary, the dog is mine."
Then he pointed to the car.
"Get in!" he ordered.
The dog obeyed, with his head hanging low and his tail between his legs, and curled up on the back seat. His owner held out a five-thousand lire note.
"Here's for your trouble," he said.
"It's no trouble to restore something lost to its rightful owner," said Don Camillo, proudly pushing the money away.
"I'm truly grateful," said the city clicker. "He's a very expensive dog, a thoroughbred from one of the best English kennels, with three international blue ribbons to his credit. I'm an impulsive sort of fellow, and the other day, when he caused me to miss a hare, I gave him a kick. And he resented it."
"He's a dog with professional dignity," said Don Camillo. "And you didn't miss the hare, because he brought it to me."
"Oh well, he'll get over it," said the city slicker, climbing back into his car.

Don Camillo spent a restless night, and when he got up to say Mass the next morning he was immersed in gloom. It was windy and pouring rain, but Thunder was there. He was covered with mud and soaked like a sponge, but he lay in front of the sacristy door and gave Don Camillo a welcome worthy of the last act of an opera. Don Camillo went in and spoke to the Lord.
"Lord, Your enemies are going to say that Christians are afraid of wind and water, because not a single one of them has come to church this morning. But if You let Thunder in, they'll be confounded."

Thunder was admitted to the sacristy, where he waited patiently, except when he stuck his nose through the door near the altar, causing Don Camillo to stumble over his prayers. They went back to the presbytery together, and the priest sank into his former melancholy.
"No use fooling myself," he said with a sigh. "He knows the way, and he'll come back for you."
The dog growled as if he had understood. He let Don Camillo brush him and then sat down by the fire to dry.

The owner returned in the afternoon. He was in a very bad humor, because he had got his car muddy. There was no need for explanations; he walked into the presbytery and found Thunder in front of the spent fire.
"Sorry to have given you more trouble," he said, "but it won't happen again. I'll take him to a place of mine in the next province, and he couldn't find his way back from there even if he were a carrier pigeon."
When his master called this time Thunder gave an angry bark. He would not get into the car of his own accord, but had to be lifted on to the seat. He tried to escape, and when the door was closed he scratched and barked without ceasing.

The next morning Don Camillo left the presbytery with his heart pounding. Thunder was not there either that day or the next, and little by little the priest resigned himself to his absence. A fortnight went by, and on the fifteenth night, at about one o'clock, Don Camillo heard a cry from below and knew that it was Thunder. He ran downstairs and out on the church square, quite forgetting that he was in his nightshirt. Thunder was in a very bad condition: starved, dirty, and so tired that he could not hold up his tail. It took three days to restore him to normal, but on the fourth day, after Mass, Thunder pulled him by his cassock to where the shotgun was hanging and made such a scene that Don Camillo took his gun, bag and cartridge belt and set out for the fields. There followed a rare and wonderful week, when Don Camillo's catches made the most seasoned hunters green with envy. Every now and then someone came to see the dog, and Don Camillo explained:
"He's not mine. A man from the city left him here to be trained to chase hares."

One fine morning Peppone came to admire him. He stared at him for some time in silence.
"I'm not going to hunt this morning," said Don Camillo. "Do you want to try him?"
"Will he come?" said Peppone incredulously. "I think he will. After all, he doesn't know you're a Communist. Seeing you in my company, he probably takes you for a perfectly respectable person."

Peppone was so absorbed by the prospect of trying the dog that he did not answer. Don Camillo turned his gun and bag and cartridge-belt over to Peppone. Thunder had been excited to see Don Camillo take down his gun, but now he seemed taken aback.
"Go along with the Mayor," said Don Camillo. "I'm busy to-day."
Peppone put on the belt and hung the gun and bag over his shoulder. Thunder looked first at one and then at the other.
"Go on," Don Camillo encouraged him. "He's ugly, but he doesn't bite."
Thunder started to follow Peppone, but then he stopped in perplexed fashion and turned round.
"Go on," Don Camillo repeated. "Only watch out that he doesn't enlist you in the Party."

Thunder went along. If Don Camillo had turned over his hunting equipment to this man, he must be a friend. Two hours later he bounded back into the presbytery and laid a magnificent hare at Don Camillo's feet. Soon, panting like a locomotive, Peppone arrived upon the scene.
"Devil take you and your dog!" he exclaimed. "He's a perfect wonder, but he eats the game. He stole a hare a yard long. After he had brought me the quails and the partridges, he had to steal a hare."
Don Camillo picked up the hare and held it out to Peppone.
"He's a thinking dog," he answered. "He thought that if the gun and the cartridges were mine, I was entitled to part of the kill."

It was plain that Thunder had acted in good faith, because he did not run away from Peppone, but greeted him with affection.
"He's an extraordinary animal," said Peppone, "and I wouldn't give him back to that man even if he came with a regiment of militia."
Don Camillo sighed.

The owner turned up a week later. He wore a hunting outfit and carried a feather-weight Belgian shotgun.
"Well, he got away from up there, too. I've come to see whether he landed here again."
"He arrived yesterday morning," said Don Camillo glumly. "Take him away."
Thunder looked at his master and growled.
"I'll settle accounts with you this time," said the city slicker to the dog.
Thunder growled again, and the city slicker lost his head and gave him a kick.
"You cur! I'll teach you! Lie down!"
The dog lay down, growling, and Don Camillo stepped in.
"He's a thoroughbred, and you can't handle him with violence. Let him quiet down while you drink a glass of wine."

The man took a seat, and Don Camillo went down to get a bottle from the cellar. While he was there he found time to scribble a note which he gave to the bell-ringer's son.
"Take it to Peppone at his workshop, and hurry."
The note contained only a few words: "The fellow's here again. Lend me twenty thousand lire so that I can try to buy the dog. And get them here fast."

The city slicker drank several glasses of wine, talked idly to Don Camillo, then looked at his watch and stood up.
"I'm sorry, but I must go. Friends are expecting me for the hunt, and I've just time to get there."
Thunder was still crouching in a corner, and as soon as he saw his master looking at him he began to growl. He growled louder when the man came near. Just then there came the roar of a motorcycle and Don Camillo saw Peppone dismount from it. He made an interrogative gesture and Peppone nodded an affirmative answer. He held up two open hands,
then one, and finally one finger. Then with his right hand he made a horizontal cut through the air. Which signified that he had sixteen thousand five hundred lire. Don Camillo sighed with relief.
"Sir," he said to the visitor. "You can see that the dog has taken a dislike to you. Thoroughbreds don't forget, and you'll never make him put it behind him. Why don't you sell him to me?"

Then he made a mental calculation of his resources.
"I can pay you eighteen thousand eight hundred lire. That's all I possess."
The city slicker sneered.
"Father, you must be joking. The dog cost me eighty thousand and I wouldn't sell him for a hundred. He may have taken a dislike to me, but I'll make him get over it."
Heedless of Thunder's growling, he seized him by the collar and dragged him over to the car. As he tried to lift him in, the struggling dog clawed some paint off the mudguard. The city slicker lost his head and with his free hand beat him over the back. The dog continued to struggle, caught the hand that held his collar and bit it. The owner let go, and the dog went to lie against the presbytery wall, still growling. Don Camillo and Peppone stared from where they stood and did not have time to say a word. The city slicker, as pale as corpse, pulled his shotgun out of the car and aimed it at the animal.
"You bastard!" he said between his teeth as he fired.

The wall of the rectory was stained with blood. After a piercing howl, Thunder lay motionless on the ground. The city slicker got into his car and drove off at top speed. Don Camillo took no heed of his departure and did not notice that Peppone had followed on his motorcycle. He knelt beside the dog, with all his attention concentrated upon him. The dog groaned as Don Camillo stroked his head, and then suddenly licked his hand. Then he got up and barked happily.

After twenty minutes, Peppone returned. He was red in the face and his fists were clenched.
"I caught up with him at Fiumaccio, where he had to stop at the level crossing. I dragged him out of the car and boxed his ears until his head was as big as a water-melon. He reached for his gun, and I broke it over his back."
They were in the hall, and now a howl came from farther inside.
"Isn't he dead yet?" asked Peppone.
"Only his flank was grazed," said Don Camillo. "In a week he'll be livelier than ever."
Peppone ran a big hand doubtfully over his chin.
"Morally speaking," said Don Camillo, "he killed the dog. When he shot that was his intention. If Saint Anthony deflected his aim, that doesn't take away from the vileness of the deed. You were wrong to box his ears, because violence is never a good thing. But in any case . . ."
"In any case ... he won't show his face here again," said Peppone, "and you have acquired a dog."
"Half a dog," declared Don Camillo. "Because I'm morally indebted to you for the money you were ready to lend me. So half the dog is yours."
Peppone scratched his head.
"Well, by all that's wonderful!" he exclaimed. "An honest priest, and one that doesn't defraud the people!"

Don Camillo gave him a threatening look.
"Listen, if you bring politics into it, I'll change my mind and keep the dog to myself!"
"Consider it unsaid!" exclaimed Peppone, who under¬neath it all was a man and a hunter and cared more for Thunder's esteem than for that of Marx, Lenin and com¬pany. And Thunder, with a bandage around his hips, came barking in to seal the pact of non-aggression.


Go on to chapter fourteen, The Wall on the meaning of life website.