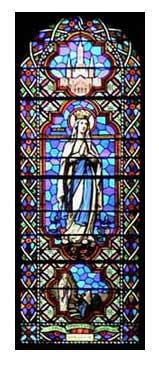 What about papal infallibility? When Pope Urban II called for the Crusades, was he correct in doing so? What about all the other flawed popes throughout history?

The Pope, as a man, is not infallible. The Pope, as head of the Church, with the approval of the College of Cardinals, in matters of faith only, in formal, issued Encyclicals or other official documents of Doctrine, is infallible. These pronouncements are rare. Popes have often issued opinions and orders that in no way have the authority of God behind them. Popes are human even as you and I are, and sometimes have not even been good men. It is a telling statistic that of the over 300 popes of the Church over two thousand years, only a handful have been declared saints. But the fact that we are all sinful humans in no way takes away from Holy Mother Church, to whose ideals we must all aspire.


Why do you call the Church Holy Mother Church?

When children (especially boys) have gone astray, perhaps getting into trouble with the police or dropping out of school, our fathers take a rather hard line. "The no-good bum, throw him out of the house and let him see what the real world is like for awhile!" Mom always takes the kid's side. "Oh, he's a good boy. You'll see. He will find his way; don't be so hard on him. He just needs more love."

The Church is like our mom. She sees only the good in us. She is always eager to take us back, and show how much she loves us, no matter what we have done. We can always go home to Holy Mother Church and know that only complete forgiveness and unconditional love await us.



"I am confused as to what role Mary plays in the Catholic Church. Should I pray to her? Aren't statues of her a sin? Can she intercede with God for us?"
We do not worship Mary; we venerate her, as befits the Mother of God. Jesus was both true God and true man. As true man he had a mother. As true man he loved His mother, as we all do. She is not God, she is just a special human being. But the Church decided that it was OK for us to show her reverence. How could Jesus object if we showed reverence and respect for His mom?
In addition, many women feel a bit left out of Christianity, and the Church decided that this was a good way to bring a woman into a position of great respect.
No statue is a sin, any more than pictures or paintings are. Statues are used only to help our devotion to God by giving us a representation to see. You are thinking of the Biblical command not to worship statues or graven images. That was back when people actually thought that the statues themselves were gods, and worshipped them as gods. That is obviously blasphemy.

"If it is true that the bread and wine at communion become the actual flesh and blood of Christ and that He was truly human, then does that not mean that the Church condones cannibalism?"
Of course not. We are not talking about the very temporary body Christ had when He was on earth, before the Crucifixion. We are talking about His Glorified Body and Blood in heaven, the body of the Risen Christ. The substance of it is beyond our comprehension.
Nothing in heaven is material; nothing is made of anything like what is in our universe. We are taking the Risen, Glorified Christ into our bodies as a way of signifying that some very special direct communication with God is taking place that we do not and cannot understand. Christ said He wants us to do this, in commemoration of Him, and so we do. We do not argue with Almighty God.

"Where in the Bible does Jesus openly say He is God?"
One reference is in the tenth chapter of the gospel of St. John. In verse 30, Christ says "I and the Father are One." At this, the Jews fetched stones to kill Him, saying "You are claiming to be God!" so there was no doubt at all in their minds as to what He was intending to say.
Also in the gospel of St. John:
Jesus said, "I am the way, and the truth, and the life; no one comes to the Father, but through Me. If you had known Me, you would have known My Father also; from now on you know Him, and have seen Him." Philip said to Him, "Lord, show us the Father, and it is enough for us." Jesus said to him, "Have I been so long with you, and yet you have not come to know Me, Philip? He who has seen Me has seen the Father; how do you say, 'Show us the Father'?" (John 14:6-9)
In fact, St. John begins his gospel with the words "In the beginning was the Word (Jesus Christ), and the Word was with God, and the Word was God." He goes on to say, "And the Word was made flesh, and dwelt among us." That makes it clear that we have the authority of the Bible that Jesus is true God
Bear in mind that Christ was also true man, and most of the things He says are as true man, not as God. In addition, He could not always go around claiming to be God, because the Jews considered that blasphemous. The one time He said it in public, above, He almost got stoned to death.

"Can't we just accept Jesus as a good man and a great prophet?"
Since it is clear that Jesus claimed to be God, then if this claim is not true he was either a lunatic, or a great scoundrel and liar. Either way, we cannot think of him as a good or great man. It is all or nothing. Dismiss him completely as a flim flam man, or accept that He is in fact true God.

Why did Christ cry out in agony on the cross, "My God, why have you forsaken me?"
His agonized cry to the Father is a reminder to us that He was not "cheating" on the pain and suffering by dint of His also being true God. He suffered. As any man would, He cried out in his extreme agony for help that He knew would not come, could not come. No man wants to be tortured to death.
How Christ could be both true man and true God at the same time is a mystery, known only to God. But it was necessary, so that He could represent us and atone for our sins as a human, and yet do infinite reparation as God. One or the other would not do. He had to be both.

"Don't Catholics pray to saints? Isn't this wrong? You just gave the Bible quote 'No one comes to the Father except through Me.' "
What Christ meant by "you must go through me" has nothing to do with prayer. It means that we can only come to heaven, to the Father, through Christ, through belief in Him. Christ is our Redeemer. Without Christ we are all doomed to hell. Christ is the only way to salvation. It was His infinite atonement that forgives our sins.
Catholics do not need to pray to saints; that is strictly up to each individual. Prayers to saints are--of course--heard by God, just as all prayers are. Whether or not He passes them on to saints is up to Him.
The important thing is this: the Church recognizes that it is difficult for many people to communicate with God on a personal level. If we know the life history of a particular saint, or share something in common with them like the area in which we grew up, it is much easier just to talk to them and share our hopes and our fears like we would to a friend. Psychiatrists know that this sort of communication is extremely important to our mental health and happiness.
You might read also our article about prayer, at Prayer.

"When I was young fellow, the Catholic Church had a policy that said that only Catholics can enter the kingdom of heaven. Does it still maintain this belief? I recently learned that the Muslims have a similar belief. In both cases it seems like an arrogant stance."
What you were taught was an incomplete interpretation, even if technically correct. But it must come with lots of explanation.
The Church now strongly emphasizes God's love and mercy for each and every one of His children. It is recognized that there is such as thing a "Baptism of Desire," in which Almighty God in His infinite power can take it upon Himself to offer baptism to any good person, at any time, even in the last timeless instant of their earthly life. If offered directly by God, who would refuse?
Pope John Paul made it official Doctrine that God's love always, in every case, trumps His justice. We are all his children, and if you have children of your own, you know exactly what that all implies. Heaven is full of Catholics, Muslims, and even Baptists! (lol) Just trust God to find a way.
Incidentally, you might note that practically all religions believe that they are the one group beloved by God and who are worthy to spend eternity with Him. This is not a fault of religion; it is a fault of basic human nature.

"I am Protestant. Must I confess my sins to a priest before they are forgiven?"
The Sacrament of Confession was instituted by the Church under authority granted by Christ when He said to His Apostles, "Receive the Holy Spirit. Whose sins you shall forgive they are forgiven them, and whose sins you shall retain they are retained." [John 20: 19-23] So if a person is Catholic he is on firm ground and can be certain that Confession is all-cleansing. A Catholic knows for sure, every time, that he is 100% forgiven.
For a long time, the Church did not recognize direct forgiveness without Confession. But today, it is clearly seen that there are many ways to heaven. It is recognized that Christ died for the sins of all mankind, not just for the people fortunate enough to have been introduced to Catholicism or even to Christianity.
In addition, when a Catholic goes to Confession, he will receive benefits far beyond the mere forgiveness of sin. It is a Sacrament, and will help us to lead the kind of life that God wants us to lead. It is a source of grace that God makes available to us and deeply wants us to receive.

"What is the Trinity? How can there be three "persons" but one God?"
We have no idea of the "real" nature of God. Our word "spiritual" doesn't actually mean anything other than "not material." We are very much in the dark, because God has told us very little about Himself.
But there is but one God, not three. Perhaps saying that He has three distinct "personalities" would be less confusing. But God's nature certainly remains a mystery to us.
We humans are single personality, material creatures. We have no words in our language to describe accurately something that is beyond our experience.
God is obviously (from what Christ said) a multiple personality, spiritual being. Naming various aspects of Him, like the Holy Spirit, does nothing to improve understanding; it is just a convenience in discussion. It is easy to see that we do not need to have a complete understanding of God's nature in order to successfully complete this phase of our existence.
Whether this is because we are incapable of such understanding, and so were not told, or whether it is because God does not wish us to know just yet, we have no idea. But we must accept as true the small amount He has told us, whether or not it agrees with everyday experience.

"I am looking for another church to join and have run across the Eucharist. Exactly what is it?"
If you are in a Catholic Church, the Eucharist is a piece of bread that has been transformed in substance, but not in appearance, into the (glorified) body of Jesus Christ. This allows us to have a very close relationship with God (Christ) and gives us much grace. It is a commemoration of the Last Supper, the night before Christ was betrayed and put to death, in which He took a piece of bread, blessed it and broke it, and said to His apostles "This is my body. Do this in remembrance of me."
The apostles thus were given the power to change the bread just as Christ had done. They pass on this power to other priests of the Catholic Church.
Other Christian churches imitate this service, but since they have no power or authority to change the bread into the body of Christ, it sadly remains just bread. However, to the extent to which it inspires the congregation to pray and be good, it is a good thing and God is not displeased.

"What do Catholics mean by Purgatory?"

Fifty years ago, the Church emphasized the concept of Purgatory much more than it does today.
The whole idea of Purgatory is that even though we can be forgiven of our sins through the death of Jesus Christ, we still committed them and infinite justice demands some sort of atonement on our part. It is our final purification.
For a complete explanation, with all Biblical references, please go to our article at Explaining Purgatory
"What do Catholics mean by Original Sin?"
For a complete explanation please go to our article on this website at Original Sin