Chapter Twenty-nine - Don Camillo Gets Into Trouble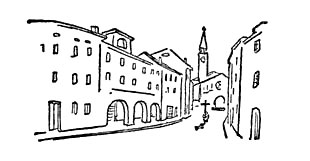 SAINT MARTIN'S Summer brought some strangers to the village, among them a certain Marasca, who might better have stayed away. Marasca had a little boy and when he took him to school for the first time he said to the teacher:
"I hear that the priest comes every Wednesday to give religious instruction. When he arrives, will you kindly send my boy home?"

And since the teacher told him that was impossible, every Wednesday Marasca kept the boy away from school. Don Camillo stayed out of it as long as he could, then one Wednesday afternoon he went to Olmetto, the farm where Marasca was a tenant. He meant to make a joke of it rather than to stir up trouble, but at first sight Marasca showed signs of resentment at his visit.
"This is my land," he said. "You must have crossed the wrong bridge."
"No; I didn't cross the wrong bridge," said Don Camillo. "I hear that on Wednesdays your boy can't come to school, and so I thought I'd give him a little religious instruction at home."
Marasca came out with an oath that was really more than Don Camillo deserved.
"I see you need a little religious instruction yourself," said the priest, "and I'm ready to give it to you."
Marasca's brother came out of the house and looked threateningly at the visitor.
"Get out of here and don't let me see you again, you cursed black crow!" shouted Marasca.

Don Camillo did not say a word. He retraced his steps, and when he was across the bridge and back on the road, he called out.
"Now I'm off your land," he said. "But you'll have to come and repeat your words, because I don't understand you."
The two brothers looked at one another; then they crossed the bridge and planted themselves defiantly in front of Don Camillo. And there they found that the priest had quite a bag of tricks up his sleeve. While he was slapping the dust off the face of the first Marasca, the brother, who had already had a taste of the same medicine, ran back to the yard and returned with a pitchfork. The pitchfork was of an ordinary kind, and had a handle. But this was where the trouble began, for in Don Camillo's powerful hands the handle turned into a regular earthquake. The two Marascas found this out to their sorrow, because the handle was broken on their backs.

The whole village was turned upside down, and the Communist newspaper sent a special correspondent who painted Don Camillo as a dangerously aggressive and violent man. As a result, Don Camillo was called up before the old Bishop, and before he could say any more than: "Self-defense ..." the Bishop interrupted him gently.
"Monterana is without a priest. Go up there this evening and stay until the return of the regular incumbent."
"But the regular incumbent is dead," Don Camillo stammered.
"Exactly," said the Bishop, making a gesture which indicated that he had nothing more to say.
Don Camillo bowed his head and went to pack his bag.

Monterana was one of the most forsaken spots on the surface of the globe: half a dozen huts made of mud and stones, one of which was the church, but distinguishable from the others only because of the bell tower at its side. The road to Monterana was a stony ditch, called by courtesy a mule-track, but no mule would ever have ventured upon it. Don Camillo arrived at the top with his heart in his throat and gazed round. When he went into the presbytery the walls were so low that they seemed to crush him. A scrawny old woman came out of a hole and looked at him through half-open eyes.
"Who are you?" Don Camillo asked, but she threw out her arms as if to say that she had forgotten.

The main beam of the kitchen ceiling was supported by a tree trunk in the middle of the room, and Don Camillo was tempted to play the part of Samson and pull the whole place down around him. Then he realized that another priest, a man like himself, had spent a lifetime amid these same squalid surroundings, and this caused him to recover some of his calm. He went into the church, and the miserable condition of it brought tears to his eyes. He knelt on the step before the altar and raised his eyes to the cross.
"Lord . . ."he began, and then he stopped, because the cross was of crudely cut wood, black and peeling; it was completely bare. Don Camillo felt very nearly afraid. "Lord," he sorrowfully exclaimed, "You are everywhere in the universe, and I need no image of You to tell me that You are near, but here I feel as if You had abandoned me . . . My faith must be a very poor thing, if I feel so terribly alone."

He went back to the presbytery, and there he found a cloth on the table, a loaf of bread and a piece of cheese. The old woman was just bringing in a jug of water.
"Where did these things come from?" Don Camillo asked.
She threw out her arms and looked up to Heaven. Plainly, she didn't know. With the old priest it had always been like this, and now the miracle was repeating itself. Don Camillo made the sign of the cross, and involuntarily thought of the bare, black wooden cross he had just seen on the altar. He shivered, and reproached himself for being afraid. But in¬deed he had a fever, sent to him by Divine Providence, like the bread and the cheese and the water. He stayed in bed for three days, and on the fourth day he received written orders from the Bishop.

"You are not to leave your new post, for any reason what¬soever. Don't show your face in the village, for the people there must forget that they ever had a priest so unworthy. May God strengthen and protect you . . ."
Don Camillo got up, with his head still reeling. He went over to the window and found that it was chilly outside with a premonition of fog in the air.
"Winter will be here any minute," he said to himself with terror, "and I shall be snowbound and all alone ..."

It was five o'clock in the afternoon, and he must not let night overtake him. He rolled rather than walked down the mule-track and reached the road just in time to catch a bus to the city. There he went to several garages, until he found someone who would take him by car to the crossroad at Gaggiola. From the crossroad, Don Camillo cut over the fields and at ten o'clock he was in Peppone's garden.
Peppone stared at him with a worried air.
"I must transport some things to Monterana," said Don Camillo. "Can I hire your truck?"
Peppone shrugged his shoulders.
"Did you have to wake me up for that?" he asked. "We can discuss that to-morrow morning."
"We're going to discuss it right away," the priest insisted. "I need your truck to-night."
"Are you mad?" Peppone asked him.
"Yes," Don Camillo answered.

Upon receiving such a logical reply, Peppone could only scratch his head.
"Let's hurry," said Don Camillo. "How much will it cost?"
Peppone took the stub of a pencil and made some calcu¬lations.
"Forty miles there and forty miles back, that makes eighty. Sixty-five hundred lire-worth of petrol and oil. Then there's the charge for my services, which are higher paid at night. But since it's to help you get out of this village, and I'm happy to see you go . . ."
"Come on," said Don Camillo. "How much is it?"
"Ten thousand for the whole job."
Don Camillo agreed, and Peppone stretched out his hand.
"Cash will do it," he muttered.
Ten thousand lire represented Don Camillo's savings of years.
"Get your truck going, and meet me halfway down the Boschetto road."
"What in Heaven's name can you be loading there?"
"That's none of your business, and not a word to a soul."

Peppone muttered something to the effect that in the woods at midnight he probably wouldn't find many people with whom to exchange conversation. Don Camillo's fever excited rather than tired him. He made a detour through the fields and approached the church from the orchard. Or rather he bumped straight into it, because there was a thick fog all around. He had his keys in his pocket and went in by the tower door. He had to go out by the main entrance, but no one saw him.

Peppone had a bright idea. When he saw the fog and thought of Don Camillo trying to make his way through it with all his bags and baggage, he decided to blow his horn to guide him. Led by the horn and the excitement of his fever, Don Camillo arrived panting at the meeting-place. Peppone started to get down from the truck to help him, but the priest said:
"I don't need any help. Start up your motor and be ready to go when I give the word."

When he had loaded everything on to the truck, Don Camillo went to sit beside Peppone, and off they went. The fog pursued them for the first twenty miles, but they made the second half of the trip as fast as if they were flying. At two o'clock in the morning Peppone brought his truck to a halt at the beginning of the famous mule-track leading to Monterana. Don Camillo once more refused Peppone's help in unloading. Peppone heard him scuffling about at the back of the truck and then, when he saw him in the glare of the headlights, his eyes opened wide.
"The Crucified Christ from the altar!"
Don Camillo started the painful ascent of the mule-track, and Peppone had pity and overtook him.
"Father, can I give you a hand?"
"Hands off!" shouted Don Camillo. "Go home, and think twice before you spread any gossip!"
"Here's wishing you a safe arrival!" said Peppone.
And so it was that Don Camillo's Stations of the Cross began.

The crucifix was large and heavy, made out of solid oak. And the figure of the Crucified Christ was carved out of equally heavy, hard wood. The mule-track was steep and its stony surface was bathed by the rain. Never had Don Camillo carried such a weight on his shoulders. His bones creaked, and after half an hour he had to drag the crucifix. The crucifix became heavier and heavier and Don Camillo was more and more tired, but still he did not give up. He slipped and fell on a sharp stone, and felt the blood trickling down from one knee, but still lie did not stop. A branch carried away his hat and scratched his forehead, thorns ripped his cassock, but on he climbed, with his face bent low, near to that of the Crucified Christ. Even a gushing spring did not tempt him to linger. One, two, three hours went by.

It took him four hours to reach the village. The church was the building farthest away, and to reach it he had to climb up a path which was less rocky, but filled with mud. Everyone was still in bed and he toiled on quite alone, borne up by the hope that is born of despair. He entered the empty church, but his task was not yet over. He still had to dismount the bare, black cross and install his own crucifix on the altar. After one last struggle, his mission was accomplished. Then he collapsed on the floor. But when the bell rang he jumped up, went to wash his hands in the sacristy and said his first Mass. He lit the candles himself: there were only two of them, but they seemed to shed a very great light.

Only two people came to Mass, but Don Camillo had the sensation of a multitude, because one of the two was the old woman who had forgotten her name, and the other was Peppone. He had been too tired to drive his truck back and had followed Don Camillo step by step up the mountain. Although he did not have the cross on his shoulders, he had felt the priest's weariness as if it were his own. As he went by the poor-box in the church he slipped into it the ten-thousand lire note given him by Don Camillo.
"Lord," whispered Don Camillo raising his eyes to the Crucified Christ. "I hope you don't mind my having brought You to this wretched place."
"No, Don Camillo," said the Lord. "


Go on to chapter thirty, When the Rains Came on our site.